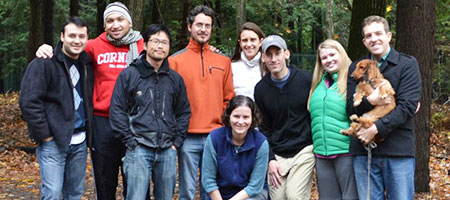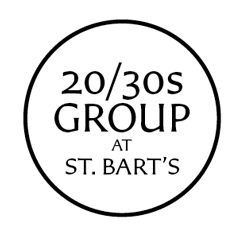 EASTER SEASON WITH THE 20S/30S FELLOWSHIP

MONTHLY BRUNCH
Have you been to one of our brunches lately? We have had a pretty good turnout the last few months! This is a great chance to meet up with some other folks in the fellowship. On Sunday, April 7th, we will return to Stags Head Tavern, located at 252 E 51st St, between 2nd and 3rd Avenues. Join us there at 1 pm, or meet up during coffee hour and walk over together after the 11 o'clock service.

WEEKLY WEDNESDAY FELLOWSHIP
We are continuing our weekly gathering for the St. Bart's Wednesday night Eucharist, which takes place in the Chapel at 6 pm. The service is quite short, and our very own David Bryan, Director of Welcome, is providing additional music, playing guitar and singing. After the service, we are adjourning to a nearby pub for some liquid refreshment. Please join us!

20s/30s SPRING RETREAT
Our second Poconos Retreat is headed our way, nestled in scenic Blakeslee, PA. We will feast, pray, and play together, taking advantage of the lake, forest, and bonfire. Our last retreat was a real treat, and this one proves to be the same, but warmer! David and Beauregard and I will be joining you, and we hope you can make it. The cost for the event is $100 per person, which includes meals, transportation, and lodging. A bus will be coordinated for all those who haven't access to a car (but if you do, please let us know!). The bus will be leaving after work on Friday, and returning around 3 pm on Sunday (if you would like to ride up early in the car on Thursday, please let us know). Sleeping bags or your own bedding will be required this time.
 We request a $50 deposit by April 18 to secure your place—although it would be best to do this early, for there are limited sleeping areas. FIRST COME, FIRST SERVED! Upon receipt of the deposit, more detailed information would come your way. Any questions? . See you in the Poconos!

A look back at the Fall getaway below: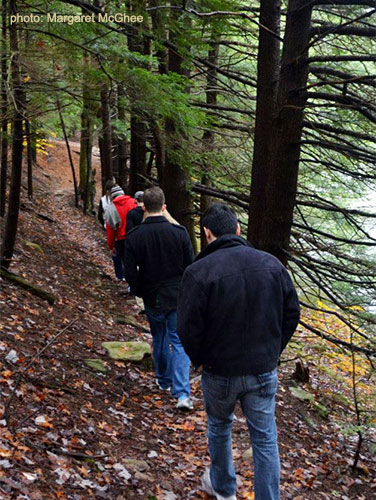 FALL GETAWAY 2012: This October, the 20's 30's group at St. Bart's joined Father Matthew and David Bryan, Director of Welcome and Inclusion, on a retreat in the Poconos. The group spent the weekend sharing meals, prayers, worship, and stories at a beautiful lake preserve. The retreat was an excellent time for recharging and mutual support in a house generously provided by Leila Berkeley, a member of the group. Among other activities, we hiked the trails of the preserve. We gathered around the riverside fire for s'mores. We shared in the Eucharist at the table after dinner. And, most of all, we grew together as a community. Everyone loved the time away so much that a spring retreat is in the works! For more information on our next retreat, please .
JOIN US ON FACEBOOK.

ABOUT OUR GROUP: Whether you are age 20 or 30 or somewhere close, our young adults group at St. Bart's is a growing community that yes, has a lot of fun together, but is also a group whose core is about making a difference; becoming the change we want to see in the world. A mix of work and fun, we collaborate with Habitat for Humanity, Ecclesia, and the St. Bart's Food Pantry/Shelter while also taking time to meet socially.

We usually have brunch on the first Sunday of each month at a nearby restaurant following the 11 am service! We meet in the bookstore near the front entrance during Coffee Hour, and then walk over together. Keep an eye out for our next announced date. All are welcome! Email with any questions!


- - - - - - - - - - - - - - - - - - - - - - - - - -

Join the 20s/30s Facebook Group!. Click here.
Sign up for Our Email Newsletter