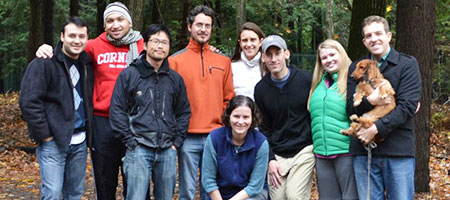 WINTER WITH THE 20S/30S+ FELLOWSHIP

MONTHLY BRUNCH: COMMUNITY MINISTRY FAMILY DAY ON FEBRUARY 2ND
In place of our usual brunch, we are going to join a "Family Day" event being held this Sunday at the church. It is a special program that is being led by the advertising company "Saachi and Saachi" who has been giving us epic free advertising for our hunger programs. They are leading a community program and art project that I think you will find worthwhile and fun (I believe it involves evocative chalk drawings). We will be sharing the time with the families of the church with children, so it will be good chance to meet some new people outside of our group. And lunch will be provided gratis!

If you would like to join and haven't RSVPed yet, please do so here!


20s/30s+ POCONOS RETREATS

Our Fall retreat was a big hit. The number of participants continues to grow, as we had 18 people—and 3 dogs! The date for our Spring Retreat has been set, and will take place May 30-June 1.

Keep an eye out for the E-vite announcement, coming soon!

Twice a year, our fellowship travels to a spacious cabin nestled in scenic Blakeslee, PA. Together, we feast, pray, and play together, taking advantage of the quietude of nature, far from the city. Cost for the event will be between $100-125 per person, which includes meals, transportation, and lodging. A bus is coordinated for those who don't have access to a car (but if you do, please let us know!)


This semiannual retreat is a chance to build community through fellowship. We share meals, pray together, play games and swap stories at this beautiful lake preserve 2 hours from the city. It is an excellent time for recharging and mutual support in a house generously provided by Leila Berkeley, a member of the group. Lake, river, forest, bonfire, and great company: could a stressed out New Yorker ask for more?? For more information on our next retreat, please .



JOIN US ON FACEBOOK.

ABOUT OUR GROUP: Whether you are in your 20s, 30s, or somewhere close, our young adults group at St. Bart's is a growing community that has a lot of fun together, but is also a group whose core is about making a difference; becoming the change we want to see in the world. A mix of work and fun, we collaborate with Habitat for Humanity, Ecclesia, and the St. Bart's Food Pantry/Shelter while also taking time to meet socially.

We usually have brunch on the first Sunday of each month at a nearby restaurant following the 11 am service! We meet in the bookstore near the front entrance during Coffee Hour, and then walk over together. Keep an eye out for our next announced date. All are welcome! Email with any questions!


- - - - - - - - - - - - - - - - - - - - - - - - - -

Join the 20s/30s Facebook Group!. Click here.
Sign up for Our Email Newsletter