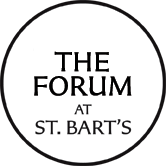 Each Sunday at 10:05 a.m., we gather for a forum that helps us further connect faith with life. Programs range from clergy teaching; expository Bible study; explorations of theology, social concerns, philosophical questions; and very occasionally matters of St. Bart's ministry and mission. See below for recordings of past Forums.

LOCATION: Great Hall/Community House
SUNDAY, May 26, 2013
Rick Hamlin, Executive Editor of Guideposts, will be Buddy's guest. He will talk about his latest book, Ten Prayers You Can't Live Without in particular, and more generally about what it means to be people of prayer in the modern world.
---
ARCHIVE: We invite you to listen to audio recordings of past Forums.